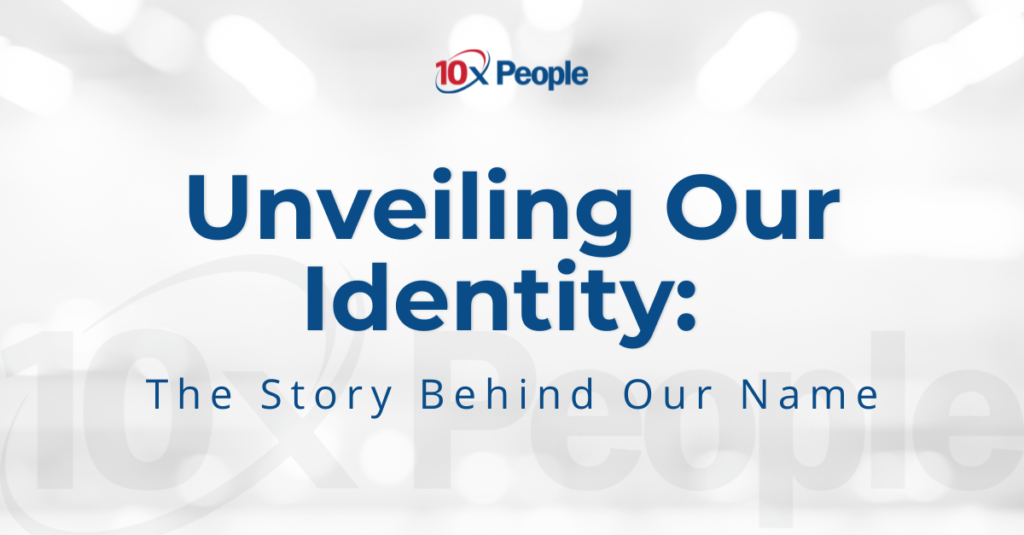 William Shakespeare once famously pondered, "What's in a name?" The second half of his quote, "That which we call a rose by any other name would smell as sweet," may ring true for a flower or a person, but for brands, the story gets a little more complicated.
Common best practice tells us that a brand name should be many things all at once: short, sweet and easy to pronounce, but also unique and identifiable while not impinging on an existing trademark.
Upon hearing our name, 10x People, the most common question we get next is, "How'd you choose that name?" We're glad you asked. The 10x People origin story and where we came from is a great way to reflect on our upcoming birthday celebration. The 10x People journey began with a bold leap of faith spurred by a vision to revolutionize the numbering industry. We feel our name holds true to what every brand name should be at its core: a reflection of our company personality.
Company Inception: The Leap of Faith
Every successful venture has its starting point; that pivotal moment when inspiration strikes and a company is born. For 10x People Founder and CEO Lisa Marie Maxson, it all began with an unwavering belief to fill a need and with the help of a customer who saw potential in the future company's capabilities.
For Maxson, that customer came before the company name was even created.
"We jumped right in with two feet and had a customer that believed in us," Maxson says. "They trusted us to build solutions from the ground up and we delivered beyond expectations. That trust fueled our drive to create something extraordinary and it started the company."
The 10x People Origin Story and the Power of Empowerment
Next came the evolution of the company name. Maxon stressed the importance for the company name to be meaningful and carry significance.
"10x People all stems from the 10x Methodology, a software approach we had honed over years of experience in developing software for other companies," Maxson says. "At its core, the 10x Methodology champions the idea of empowered individuals—people who are not just employees but champions of innovation."
Thus was born a company value titled Empowered Plus, which is derived from the book, "The 10X Rule" by Grant Cardone. The value states that empowerment comes from constant education, which empowers the team and, in turn, empowers customers.
"10x People is made up of individuals who take risks, go the extra mile and dive head first into solving complex challenges for our customers," Maxson says. "They are the driving force behind our success. In contrast, a 5x person does their job well but stays within their defined boundaries, while a 1x person simply stamps a piece of paper and moves a task along. At 10x People, we reject silos and encourage our team members to take on diverse tasks and roles. That's the 10x People way."
The "Aha" Moment: A Glimpse of the Future
The 10x People "aha" moment came when the company reimagined how the industry approaches number portability and realized as a team that they could make the process more efficient and streamlined, Maxson recalls.
"As we embarked on this journey, we discovered the hunger within the industry for vendors who listened and continually improved their offerings to meet specific numbering needs," Maxson says. "That's when we knew we were onto something truly special here at 10x People."
The Importance of a Meaningful Company Name
Maxon says the name 10x People perfectly encapsulates the company's core values and identity.
"Our name signifies that our business is all about the people—empowered individuals who drive innovation and go above and beyond to support our customers' success," Maxson says. "Our solutions are a testament to the dedication of our 10x People."
The company's origin story is an integral part of the company's brand narrative.
"The concepts of 10x People embody our commitment to excellence and innovation," Maxson says. "It's not just about what we do; it's about the kind of people we are and the culture we foster.
Looking back, Maxson is incredibly satisfied with the name 10x People.
"It represents not just our company but also our values and our team," Maxson says. "To aspiring entrepreneurs, we emphasize the importance of selecting a meaningful and impactful company name. The name has become an integral part of our brand identity."
Celebrating 10 Years and the 'Essence of 10x People'
In a few words, Maxson says 10x People can be described as "a team of empowered individuals who love to work hard for our customers and also know how to play hard and have fun."
As 10x People celebrates its 10-year anniversary this year, the 10x People empowerment story continues to grow and evolve.
"The story of how we got our name reflects the very heart of 10x People: an empowered, innovative and dedicated team that strives for excellence in everything we do," Maxson says. "Our name is not just a label; it's a testament to who we are and what we stand for."