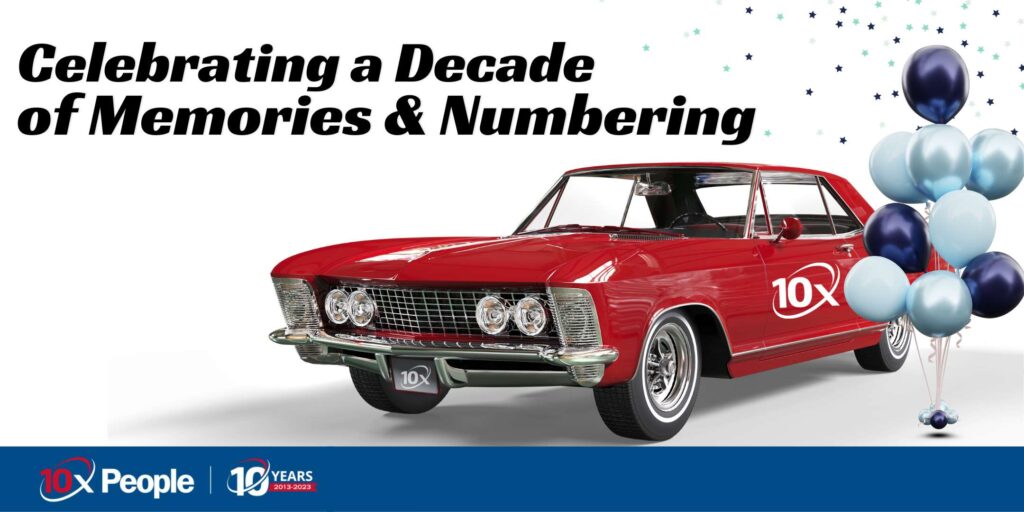 Ten years in the world of business is quite the milestone, and one we couldn't wait to celebrate this month with the customers, colleagues, friends and family who have shaped our journey. 10x People CRO John Nakamura likened our 10-year anniversary to the evolution of automobiles. Just as cars have evolved from pre-engine buggies to sleek, tech-filled 21st century vehicles, so too has 10x People changed and innovated as numbering technology has evolved — and with a mix of old and new employees in the passenger seat that have made the ride much more worthwhile.
How fitting, then, that we celebrated our own transformation this month with a 10-year anniversary party at The Vehicle Vault where we were surrounded by cars — 50 cars to be exact, with a combined worth of approximately $10 million to $20 million — that evolved through the decades. While the cars in the background made for incredible picture opportunities for those in attendance, Penelope the Porting Panda stole the show! She made a surprise appearance at the party and everyone couldn't wait to get a picture with the world's most famous porting panda.
During the event, 10x People Founder and CEO Lisa Marie Maxson took a moment to thank everyone for coming and being a part of 10x People's incredible journey, noting that the company wouldn't be here today without everyone's help and support along the way. Maxson and others were incredibly touched by the number of customers, partners, and past and present employees who attended to celebrate the 10x People milestone.
A Night to Remember
10x People's anniversary is a testament to the incredible ride we've had. Beyond the venue and the festivities, our 10-year celebration was about one thing: people. It was a night to meet and reconnect with the customers we've supported, the partners we've collaborated with, the colleagues we've worked alongside and the significant others who have shared this experience with us. These are the people who have helped shape our company and contributed to our success over the past decade.
As we celebrated this 10-year milestone, we reminisced about our past but we're looking forward to the future ahead as well. We're excited to see how our story continues to evolve, just like those classic cars transformed into modern marvels. Here's to the next ten years and beyond!