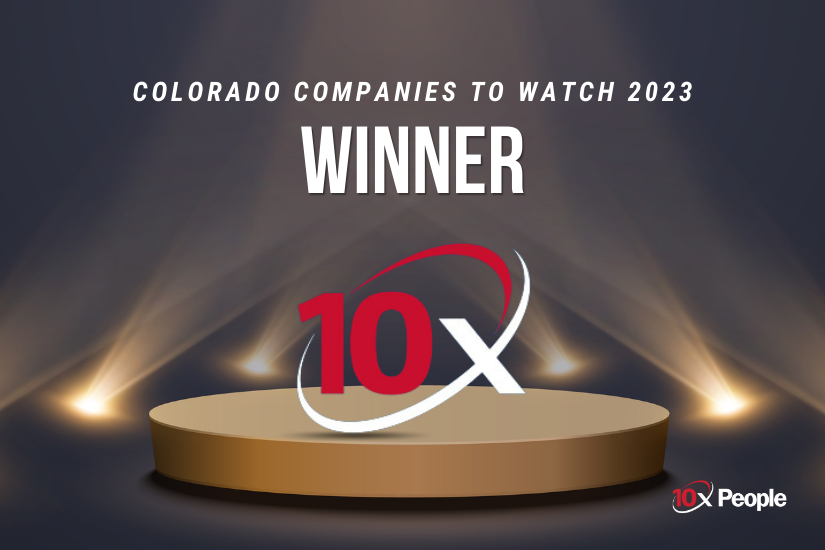 Big news from the land of software product solutions in Littleton, Colorado! We're proud to announce we have been selected as a winner of the prestigious Colorado Companies to Watch 2023. As we celebrate our 10th birthday this year, it feels like the ultimate gift. So, it's time to pop the confetti cannons as we outline why we are so proud of this particular award at a time when we are also celebrating a decade as the Local Number Portability (LNP) software and service gurus of Colorado.
Working to Drive Colorado's Economic Growth
Colorado Companies to Watch is no ordinary accolade. It recognizes dynamic companies that play a vital role in fueling Colorado's economic growth. To earn this honor, companies must be nominated by their peers and are judged based on their employment and revenue growth, business successes, and unique strengths. Having begun our journey in 1996 as a consultancy before officially forming under the 10x People name in 2013, we feel fortunate to continue to grow and help drive economic growth right here in Littleton. 
Innovating for a Decade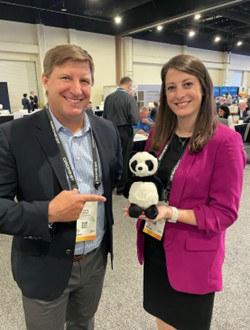 We've heard some people dread their birthdays, but not us. The fact that we've been rocking the telephone number management SaaS scene for an entire decade gives us cause for celebration. So cue the music because Penelope the Porting Panda (our unofficial mascot to the right) is breaking out the celebratory dance moves! We owe our tenure to our listen-first, agile, and automation-focused methodology, which has helped us revolutionize the telecommunications industry through our innovative SaaS platform of solutions designed specifically for Telecom Carriers and Service Providers. Our commitment to simplifying our customers' lives, providing exceptional customer support, and our dedication to continuous improvement has made 10x People a leading player in the telecom industry and the go-to vendor for companies like Zoom, Lumen, Dish, T-Mobile, and many others.
Why Littleton, Colorado is Our Perfect Home
Based in the lovely city of Littleton, Colorado, 10x People has found the ideal environment for our company to thrive and grow. From the very beginning and for a variety of reasons, we made a conscious choice to base our company here. Why? It's a community where work and play tango harmoniously thanks to a range of outdoor activities and cultural attractions that give our employees and their families an excellent quality of life.
But wait, there's more! Littleton isn't just a scenic wonderland; it's also close to Denver, DTC, and Boulder, providing easy access to thriving business communities and a highly skilled talent pool. Plus, it's a hop, skip, and a jump away from Denver International Airport, ensuring smooth flights to our nationwide customers and partners. The icing on the 10-year-old birthday cake? Littleton and Colorado boast a growing tech sector, allowing 10x People to network and collaborate with other tech-savvy superheroes in our industry.
Pivotal Moments and Unwavering Commitment
Accolades like this CCTW recognition give us good reason to reflect on the path that brought us to where we are today. 10x People has weathered storms (anybody remember 2020?) and emerged stronger than ever. From retaining our Intellectual Property in 2013 to transitioning into a product-focused powerhouse in 2016, we've shown that adaptability and innovation are in our DNA. Even the global pandemic couldn't dampen our spirit. Instead of retreating, we stayed true to our core values and continued delivering exceptional products to our customers while keeping true to our promise to not cut a single employee. These pivotal moments have helped us evolve into the company we are today, and we remain committed to pushing the boundaries of what's possible in telephone number management SaaS solutions.
Innovation: The Key to Our Success
Innovation is the beating heart of 10x People. We are all about creating new ideas, products, and services that solve real-world issues in a better, more straightforward way. We stay ahead of the curve by fostering a culture of creativity and critical thinking. We listen to our customers and continuously improve our solutions, pushing the boundaries of what's expected from a SaaS provider.
Workplace Culture and Making a Difference
We've built a positive and supportive workplace that values work-life balance and personal growth. Employees are encouraged to take ownership, share ideas, and contribute to our company's success. And let's not forget the commitment of 10x People employees to give back! They support local and national initiatives, volunteer, organize fundraisers, and empower the next generation of innovators right here in Littleton with our encouragement and support.
Driving Forward with Growth and Customer Focus
As we march boldly into the future with this award win and a decade of prosperity under our belt, 10x People has its sights set on future growth both here at home and in other markets, including Canada. Expanding our product offering, including international number capabilities, is one of our key strategies. We listen intently to our customers and work closely with them to develop solutions addressing their challenges. By understanding our customers' needs and staying ahead of the competition, 10x People is confident in our ability to continue growing and thriving.
Connect with 10x People Today
With our innovative solutions, commitment to customer success, and vibrant company culture, 10x People is set to conquer new frontiers and revolutionize the way businesses manage their telecom operations. We will continue to make Colorado proud and can't wait to see what's next.
Are you interested in learning more about 10x People? Connect with us today at info@10xpeople.com, and let us know how we can help your business thrive!