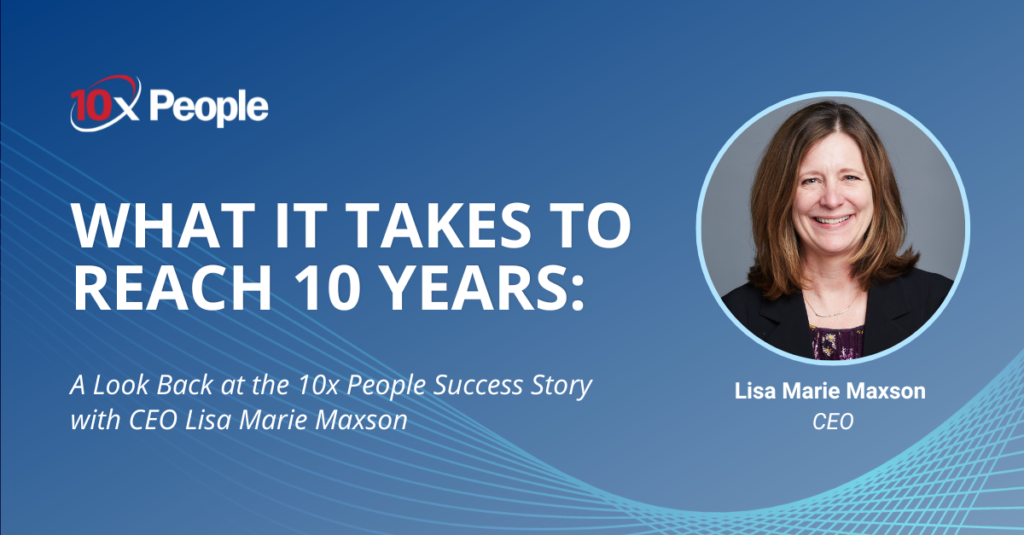 Seeing the same number over and over again is typically seen as a sign of good luck – an omen that happiness and success are on the way. So as we blow out 10 candles on our 10x People birthday cake this year, we must say we're feeling extra lucky to reflect on the journey that allows us to celebrate a full decade of success.
But as any business owner knows, luck is just one infinitesimal piece of the birthday cake. For us, our secret ingredients include education, expertise and a second-to-none team that fostered our revolution from a group of consultants into a full blown numbering solutions business.
Albert Einstein once said, "The only source of knowledge is experience," and after 10 years pioneering solutions in the numbering portability and management space, we're feeling particularly inspired to share some of what we've learned with you. In this Q&A, our CEO Lisa Marie Maxson reflects on the experiences, choices and successes that make up the 10x People story, including finding inspiration in "The 10X Rule" while achieving sustainable growth, fostering a company culture and adapting to changing business needs. 
What inspired you to start your company, and how has your initial vision evolved over the past decade?
I love working with a smart group of people to solve problems for customers. We saw a lot of unmet needs in the industry 10 years ago, particularly in the numbering space. We knew we could bring new and updated modern solutions to meet a need.
Local number portability was where we got our start. When looking at numbering more broadly, numbers have become an identity for people. Numbers are important in our society and looking beyond the ability to keep your number and provide numbers to customers and the services that go with them is important.
In the competitive business landscape, longevity can be a remarkable achievement. What strategies or decisions do you believe played a significant role in sustaining your company's growth and success over the last 10 years?
We didn't seek to create products or solutions that duplicated what had been in the industry for years. The industry has evolved from landline porting and how we viewed numbers for a household as opposed to an individual. We reimagined the space. We took a fresh look at what our customers needed, not what they already had in place. We continue to work with our customers to identify needs and address them.
Could you highlight some of the core values or guiding principles that have shaped your company's culture, and approach to business and contributed to your longevity?
One of our values is empowered plus, which was inspiration from the book, "The 10X Rule" by Grant Cardone. The crux of this value states that empowerment comes from constant education, which empowers the team and, in turn, empowers our customers. Each of our employees has the ability to do what they need to support our customers, our products and each other. We believe that making mistakes is invaluable for learning. We also value honesty and integrity. We work with our customers, making sure we are working together as a team when there are problems to address. Engaging as a team and working toward one goal is vital to the success of our business.
Other values we pride ourselves in cultivating is having a growth mindset and focusing on having an always learning mentality. Our always learning value was emphasized recently with our intern project, which gave us an opportunity to focus on learning and playing with new functionality in a sandbox that benefited the products as a whole. We also embrace curiosity and having fun!
Adapting to market trends and changes is crucial for a business's survival. Can you share an instance where your company demonstrated agility and innovation to stay relevant?
We continue to grow our products, adding data to nView, our query tool that's necessary for our customers. An example of our agility is ensuring products can support international data, providing a service both in North America and globally. We are always looking ahead to the greater need.
Building a strong team is essential for any successful company. How did you approach team building and talent acquisition to ensure your company had the right people to support its growth and vision?
We first look for a cultural fit. We believe certain people need the right skills for the job but skills can be learned. We want people that embrace our values and are invested in the success of building solutions for our customers. Culture is what it's about here at 10x People.
Customers play a vital role in a company's success. How has your company maintained a customer-centric approach throughout the years?
We are regularly in contact with our customers, listening to their needs and not just those specific to our products but to their business as well. Sometimes we even refer business to our partners if we don't have a solution for a customer. This provides more trust and credibility. If we offer that, it's because we stand behind them as a partner. We have a 'win-as-one' strategy with our partners. We are not trying to do everything for everyone but instead focus on working together with other partners to win together while also putting the customer first.
Business expansion is often part of growth strategies. Can you discuss any expansion initiatives your company undertook during the past decade?
Our first products were LNP focused. Then we focused on number intelligence, which we look at more globally in the marketplace. We soon began focusing more on the customer's world of numbers. This includes their inventory, their acquisition and assignment of numbers. Increasingly, we have become involved in numbering policy to support our customers in their success. We give that information back to them. We support their interests and keep them informed on what's going on in the industry. We have become an influencer in the numbering space as opposed to being just a watcher.
Reflecting on the journey, what do you consider a defining moment or turning point?
In our initial start of business, we did a lot of consulting work as we built up our products. The decision to eliminate all consulting work and focus on our products and bringing additional products to the market was a breakthrough turning point for 10x People.
The business landscape has seen significant technological advancements. How has your company embraced technology and digital transformation?
We were the first local number portability provider to launch completely in the cloud software as a service space, which gave us a huge advantage for scalability and service delivery. It also gave us flexibility to continually introduce new features and make changes that our customers request. We continue to look for additional tools that will enhance our product offerings. For instance, we are leveraging AI into our products and services to enhance customer value and provide additional efficiencies.
As a leader, what leadership philosophies or practices do you believe have been instrumental in fostering a cohesive and motivated team?
Being empowered is huge. Making sure we are having fun at work is also just as important. That cultural fit is super important here at 10x People. We are slow to hire and quick to fire. We have a strong focus on family and putting our families first.
Looking ahead, what are your aspirations for the company's future?
Looking forward, the world continues to be a smaller place with the growth of technology. We can continue to reach more people. Communications are still very relevant to our life today. You can speak to someone around the world instantly. So the telecoms industry will continue to be the key to the future. We will continue to work with service provider customers as they expand globally and as they expand technologically. As tech grows, we continue to see that telephone numbers are still the way that we reach others moving forward. Another identifier has yet to be identified. When and if it is, we will be there, leading the way with our customers.
Finally, when you reflect on your company's 10-year journey, what makes you most proud?
I think what makes me proud is that we have absolutely no customer turnover. Our customers are loyal to us, they love our solutions, they love to work with us and we love working for them. That's a direct result of the 10x People team and our company values working for our clients.