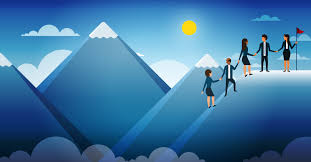 The telecom industry has been slow to change, and now several forces have come together to reshape the industry in a profound manner. As communications service providers navigate these shifts and use the changes to create a competitive advantage, competition between providers becomes increasingly turbulent.  
The industry has generated a need for customer-focused services and greater productivity. Shifts in industry structure are now based on offering new value and ensuring that communication and content services become digital. Let's take a look into a few trends that are reshaping and changing the Telecom landscape.
5G Network: 5G is already being used in transportation, education, and healthcare environments. As our wireless networks become more critical due to higher dependency by people, many telecom companies turn to and are investing in 5G as a way to provide the public with the most effective network.
Cloud Computing: Cloud computing is helping telecom companies thrive and provide better services in this shifting landscape by ensuring high scalability, helping to guarantee resilience, and offering quick disaster recovery. Investing in infrastructure to provide more cloud-based applications and sustaining them is something every Telecom company should be investing in to ensure relevancy.
Big Data: Big Data helps Telecom companies increase profits and it's potential is significant in terms of helping to win clients. Only 20% of telecom companies have been deploying big data. Those early adaptors are reaping the benefits of turning data into profitable insights. Big Data projects can be launched in sales and marketing, customer care, competitive intelligence, and network and supply chain optimisation. If you need a competitive advantage - look no further than launching a Big Data project.
Internet of things: IoT helps providers of services to provide more excellent means of communication between devices and individuals. IoT is pushing change and helping to create smooth business processes, increased revenue, and defining greater efficiencies. As we continue to understand the need for fast and stable connectivity as Internet-connected devices become more prevalent and gain more insights into how IoT makes it possible for telecom suppliers to track the different communications bases remotely - we must continue to explore new ways of using the Internet of Things and stay ahead of the game.
Launching new solutions, adapting existing business models, and network infrastructure upgrades are inevitable for telecommunication companies interested in staying viable and growth-driven in the post-pandemic environment.
The landscape is changing and it is changing fast. Make sure your company is growing with it.